New Game Arrivals - April 7, 2016
Each player builds their own metropolis in Quadropolis (first announced as City Mania), but they're competing with one another for the shops, parks, public services and other structures to be placed in them.
The game lasts four rounds, and in each round players first lay out tiles for the appropriate round at random on a 5x5 grid. Each player has four architects numbered 1-4 and on a turn, a player places an architect next to a row or column in the grid, claims the tile that's as far in as the number of the architect placed (e.g., the fourth tile in for architect #4), places that tile in the appropriately numbered row or column on the player's 4x4 city board, then claims any resources associated with the tile (inhabitants or energy).
When a player takes a tile, a figure is placed in this now-empty space and the next player cannot place an architect in the same row or column where this tile was located. In addition, you can't place one architect on top of another, so each placement cuts off play options for you and everyone else later in the round. After all players have placed all four architects, the round ends, all remaining tiles are removed, and the tiles for the next round laid out.
After four rounds, the game ends. Players can move the inhabitants and energy among their tiles at any point during the game to see how to maximize their score.
Some buildings are worth victory points (VPs) on their own, and once players sum these values with what they've scored for each type of building in their city, whoever has the highest score wins.
Knit Wit is a word game along the lines of Scattergories, with players trying to think up unique answers to particular categories in order to score points, but instead of using fixed categories, players generate their own categories while playing the game.
To set up, each player takes numbered spools and looped strings based on the number of players, along with an answer sheet. A number of bonus buttons, which have 1-4 holes, are stacked on the table, again based on the number of players. Going clockwise around the table, each player (after the first) places one loop on the table so that it surrounds exactly one spool, then draws a word tag from the box and attaches it to this loop, then places one spool in one section of loop(s) that has no spool in it. (Think of a Venn diagram; two overlapping circles form three sections, with one section having both circles in common and two sections being part of only one circle.)
Once all of the spools have been placed, everyone races to think of words, names, or phrases for each spool based on the word tags associated with that spool. If a spool has three loops around it, for example, it has three words associated with it, and your answer must relate to those words in some manner.
As soon as someone has finished or can't think of more answers, they grab the topmost button on the stack (the one with the most holes). Once the final button is grabbed, players can't write more answers. Players then compare answers, crossing out those they have in common with someone else, then scoring points for the remaining answers; each answer is worth as many points as the number of loops around the spool with the same number. Buttons are worth as many points as the number of holes they have, and whoever has the highest score wins.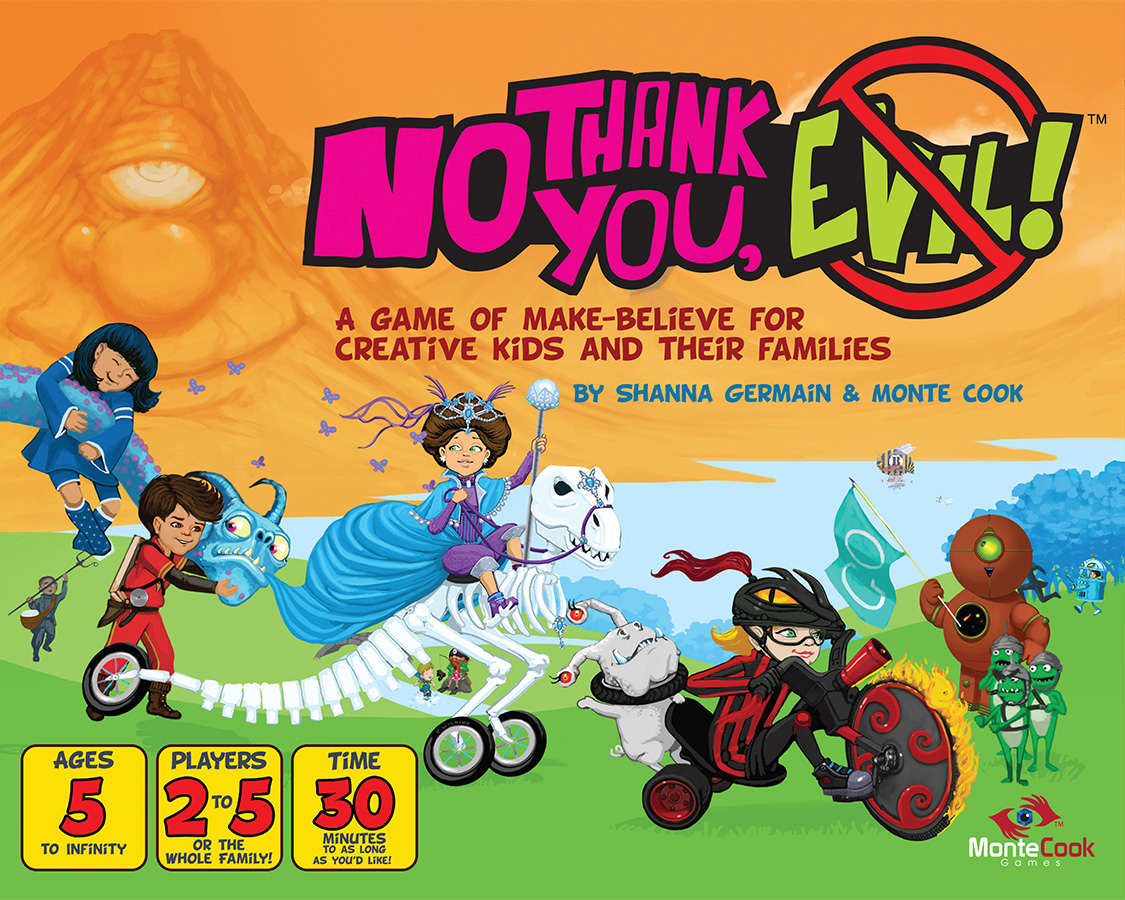 No Thank You, Evil! is tabletop game of creative make-believe, adventure, and storytelling. In No Thank You, Evil!, each player creates a character based on a couple of cool, descriptive, imagination-firing traits. The Guide (a special role often played by a parent or older sibling) presents a dilemma, and the players set off on an adventure of the imagination. Along the way they use their character's special skills, companions, and equipment to overcome obstacles—perhaps fighting a slime monster, winning over the suspicious mayor, or beating a rabbit at a race.
Whereas conventional board games constrain players' actions, No Thank You, Evil! sets kids' imaginations free: Their options are limited only by what they can think up. Together, the players create a story as they work together to make their way through the adventure!
In Zany Penguins, you want to make sure that your tribe of penguins is the one that takes control of the Earth, so do what you can to take charge of regions such as the desert, jungle, and the North Pole.
In game terms, each region has a set of cards numbered 1-9. To set up, shuffle the deck, then deal each player a personal deck of 18 cards. Each player starts with two cards in hand.
On a turn, you draw two cards, pass one card each to your left- and right-hand neighbors, take the cards passed to you, then simultaneously play and reveal one card in front of you on the table. If you play a 1, on your next turn you play and reveal two cards instead of one; if you play a 2, it blows up all 6-9 cards played that same turn; and if you play a 3, on the subsequent turn everyone else plays before you do.
After eight turns, for each card color on the table in front of you in which you have the highest sum of all players, you score the sum of all cards of this color in your hand. For each color in which you don't have the highest sum, you score the single lowest card of this color in your hand. Players tally their scores, and whoever has the most points wins.
In the two-player-game Haleakala, players are building statues on the slopes of a volcano to honor their gods. The higher the statues are built up the volcano the more they score in one of the two scoring phases, but of course the closer they are build towards the crater the danger of being destroyed by volcanic eruption is higher as well.
By playing numbered chips (1-5) to the beach, you move a ship clockwise. The sector in which the ship is moved will be evaluated. If a player has placed a numbered chip into this sector, he may gain a card from this sector. Cards are required to build statues, buy bonus score cards or to influence the direction of the lava when the volcano finally erupts (two times in the game - right before an evaluation).
What happens when seven cats run into cardboard boxes? Well, a crazy game of kitty hide-and-seek!
Kitty Paw is a dexterity and reaction game. Players try to be the first to complete the kitty combinations shown on the Kitty cards to score victory points (VP). The player with the most VP in the end wins.
On the plane of Innistrad, humanity is beset on all sides. 
Horrors stalk in the shadows. Terrors scratch at doors in the night.
Only grim determination and staunch faith in their guardian archangel, Avacyn, keep them alive in this nightmarish realm. But odd things are afoot: the forces that had protected them have been twisted into something dark and strange.
Each booster pack includes 15 cards to add to your collection—and you can expect one of those 15 to be a rare or mythic rare. Some packs even contain a premium foil card!
Each fat pack includes a Player's Guide with pictures of all cards in the set as well as two full deck boxes, nine 15-card booster packs, 70 basic lands cards, 10 checklist cards, and a special-edition life counter.
Each intro pack includes everything you need in one ready-made deck. Includes 60 cards, a foil premium rare card, two sealed 15-card booster packs, a strategy insert, and a Magic learn-to-play guide.